Tips for Traveling with Your Sporting Dog
Written by Eukanuba Staff
As you are planning your next out-of-state hunt and creating a checklist of all the things you'll need, don't forget about the needs of your dog. There's more to traveling with a dog than bringing food and water.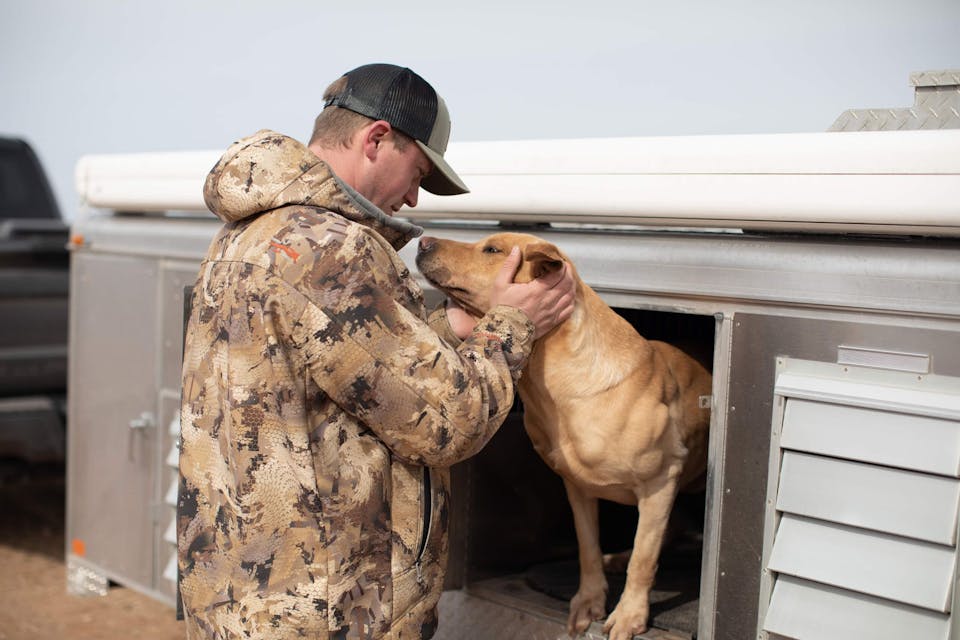 Whether you're driving a decked-out dog hauling rig or crating Rover in the backseat of your sedan, traveling with dogs is a process. Here are some tips and recommendations from two hunters and trainers who spend a lot of time on the road with their dogs.
Al Arthur: King of the Road (Sandhill Retrievers)
If anyone understands how to travel successfully with sporting dogs, it's Al Arthur. He's been training dogs his entire life, working with several industry leaders along the way and winning the National Field Trial Championship in 2015. Arthur is currently ranked among the top three US Open Handlers and travels around the country with up to 24 dogs at a time to hunt and compete.
"Our dogs travel from Georgia to Vermont and Michigan each year, and every week we are leaving to go to a competition somewhere in the United States," he says. "Our dogs probably travel 12,000 to 15,000 miles a year."
Arthur stresses the importance of food, water, comfort, and plenty of stops when it comes to traveling with dogs.
"I always make sure I have plenty of water for the dogs," he says. "It helps settle their stomachs and keeps them hydrated. One tip is to gradually mix in water from where you're traveling with the water your dogs are used to. Changing their water all at one time could potentially upset their stomachs."
For food, Arthur feeds twice a day, but reduces the amount of kibble during the morning to lessen digestion issues caused by the stress of traveling. He also places soft therapeutic mats in each dog's kennel to protect their joints during travel.
Once on the road, Arthur is adamant about frequent stops at locations where he can exercise and water or "air" his dogs.
"I air the dogs every four hours as I travel. If I have dogs that don't travel well, I will stop every couple of hours," he says. "For the routes that I travel frequently, I keep a map and mark quality spots where I can let the dogs out, so I'm never looking for a place to stop." Arthur favors isolated areas such as fairgrounds and prefers to air during the day.
"I look at it like this," he says. "I like to be comfortable when I travel, and I want my dogs to be comfortable when they travel, too. Whether he's hunting or running a competition, if he's had a rough trip and has an upset stomach and no exercise, he's not going to be at his best. A dog is at his best when he is comfortable and relaxed."
Not everyone is going to have a setup like Arthur's, but the basics are the same, just on a smaller scale—plenty of water, a comfortable place to lie down, and lots of stretch breaks.
Stephen Faust: Chasing the Migration (Stoneybrook Outfitters)
Guiding for grouse and woodcock in Minnesota, Virginia, and his home state of North Carolina, Stephen Faust and his fleet of Gordon setters aren't strangers to the road. Faust's passion for these birds leads him to the Northwoods of Minnesota each year, and as the woodcock migrate south, he's hot on their trail.
"I put on plenty of road miles," says Faust. "You have to plan ahead for the dogs, and always put their comfort first."
Faust travels with a six-hole dog topper in the bed of his truck, and pulls a dog trailer that can carry four dogs.
"When I'm on the road, that's their home for a while. I make sure they have comfortable bedding, and each dog always goes in the same hole. I don't bounce them around."
Like Arthur, Faust recommends carrying lots of water and feeding smaller amounts while on the road. Instead of big meals, he feeds his dogs small snacks each time he stops.
"When I stop, I don't rush through it," he says. "I make sure I always take at least a half hour, and I take care of the dogs before I get gas or use the bathroom myself. I stop regularly in rural areas where I don't have to worry about the dogs. I take my dogs out two at a time and walk them around before I stake them out. Then I give them water and a little food while I handle the other dogs. I put them back in the same order—first out, first in. I try to make everything a routine. Dogs like routine, and that's how they perform their best."
Faust also has a secret for enticing his male dogs to relieve themselves quickly.
"One trick I've learned is that males like to mark things, so I get the females out first and let them go, and then the males will mark on top of it rather than looking around for the exact right tree," he says, laughing.
If it's your dog's first road trip, it also doesn't hurt to take him on some test rides before leaving on a multi-day drive. You wouldn't take your dog into the field without training, and the same concept applies to traveling. Make these smaller drives longer than a typical trip to the grocery store. It may only take a few such excursions to adjust your dog to the road.
These guides and trainers know how to travel smoothly with their hard-hunting dogs. Keep their advice in mind the next time you hit the road, and your dog will be in top shape when you arrive at your destination.
FIND YOUR SPORTING DOG'S FUEL
Explore the Eukanuba™ range of performance diets formulated to fuel different activity levels, support post-exercise recovery and optimize nutrient delivery.